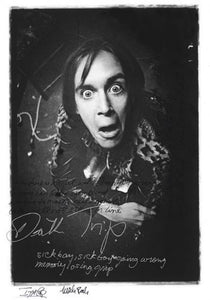 IGGY POP & MICK ROCK Death Trip #3 [signed art print]
Regular price £450.00 Sale
It's not too alien, looking back. I'm only now losing a little bit of the kamikaze sense of mission that that person had - Iggy Pop, 2013
Available in two sizes


STANDARD FORMAT EDITION
Strictly limited edition of only 60 copies
Sheet size 42 cm x 30 cm (approximately 17" x 12")
Each print individually hand signed by Iggy Pop and Mick Rock
Each print hand numbered, embossed and authenticated with a security hologram
Giclee printed to archival standards on metallic paper stock
Lyrics hand screen-printed by expert printmakers
LARGE FORMAT EDITION
Strictly limited edition of only 10 copies
Sheet size 60 cm x 42 cm (approximately 24" x 17")
Each print individually hand signed by Iggy Pop and Mick Rock
Each print hand numbered, embossed and authenticated with a security hologram
Giclee printed to archival standards on metallic paper stock
Lyrics hand screen-printed by expert printmakers

Raw Power was the third studio album by The Stooges, originally mixed by David Bowie and released on 20th February 1973 through Columbia Records. Although not initially commercially successful it gained a cult following in the years following its release. Like its predecessor, 1970's Fun House, it is widely considered an influential forerunner of punk rock. The iconic album sleeve featured a Mick Rock photograph of Iggy that has since become synonymous with the period.
In celebration of 40 years since the release of the album, Foruli is proud to publish the limited edition art print Death Trip #3, created in collaboration with Iggy Pop and Mick Rock.
Mick has identified a series of rare photographs from his archive. They are reproduced on metallic paper as archival quality giclee prints overlaid with hand screen-printed extracts from lyric sheets for Death Trip. The lyric sheets have been especially prepared by Iggy exclusively for Foruli.
Each print is individually hand signed by both Rock and Pop. The prints were released on 20th February 2013 - exactly 40 years to the day from the original album release date.
The photographs capture the feral intensity of Iggy as shaman showman - Jasper Rees, theartsdesk.com